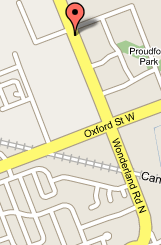 We're easy to find! Really! We are located on Wonderland Road between Oxford Street and Sarnia Road in the north-west corner of London. (We're right beside "RONA" -- and across the street from "The Athletic Club" and "Angelo's.") Wonderland Road runs north from Highway 402 and south from Highway 7. You can get to Wonderland Road from the 401 by exiting on 402 (if you are westbound), or (if you are eastbound) by exiting on Wellington Road North and then driving west on Exeter Road until you get back to Wonderland Road. Then it's a right turn to be driving north on Wonderland Road -- and it's about a ten kilometre drive to the church.
West London Alliance Church
750 Wonderland Road North
London, ON N6H 4K9

Phone: 519-471-8716

VIEW A MAP
---
Please complete the form below to submit an email.