At our men's prayer meeting, held every Thursday morning from 6:30-7:30 a.m., we have a pretty simple liturgy. The first five minutes is a "Call to Prayer" in which someone reads a portion of Scripture or perhaps a quote about prayer from a book or sermon. The next fifteen minutes are spent together, as a group, praying for variety of issues, usually determined by the one leading the prayer. We call this part of the morning—rather unimaginatively—"Group Prayer." The next quarter of an hour we spread out and pray individually. We provide a liturgy-within-a-liturgy for this time of "Personal Prayer." We conclude with small group prayer during our "3 or 4 Prayer" time.

As of late, for our "Personal Prayer" segment, we have been using prayers from the book Prone to Wander: Prayers of Confession and Celebration. This is an excellent book of prayers and I have found the times of confession particularly edifying. This past week, one line jumped off the page and seared itself into my mind. The author, Barbara R. Duguid, writes, "Strengthen us against temptation, for our hearts are unexhausted fountains of sin, rivers of corruption since our earliest days, flowing out in all our patterns of behavior." In particular, the phrase "unexhausted fountain of sin" was memorable.
Whether we like it or not and whether we care to admit it or not, this is the truth. Our lives are marred by continual sin. I don't mean to say we sin all the time, or that we never do anything right or pleasing to God. But I do mean that we sin daily, and within our days I suggest we sin hourly. And within those hours…you get the picture.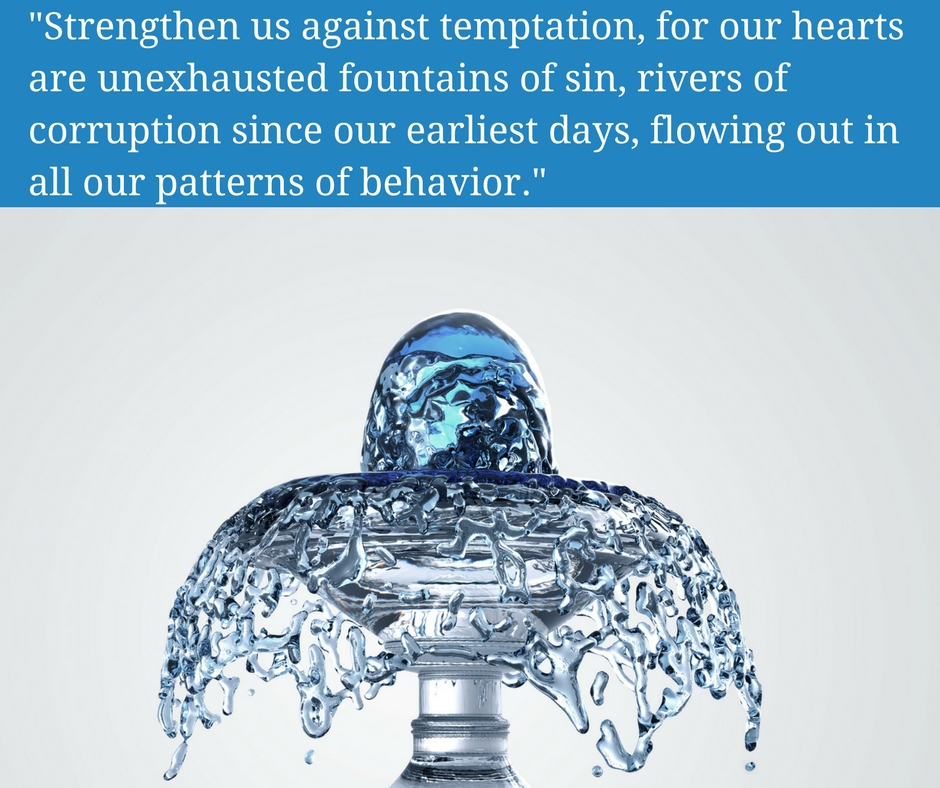 I think being honest about our proclivity to sin is helpful. It's helpful with killing pride and keeping us humble. It's helpful to see your sin so you can repent of it. But it's not only helpful, it's true. "If we say we have no sin, we deceive ourselves, and the truth is not in us. If we confess our sins, he is faithful and just to forgive us our sins and to cleanse us from all unrighteousness. If we say we have not sinned, we make him a liar, and his word is not in us (1 John 1:8-10 ESV).

We need to take our sin seriously. And clearly evaluating our sin quantitatively is one way to do that. Another way to do that is to consider the gravity of our sin qualitatively. That is, we not only sin a lot, but our sin is bad. Really bad. This point was recently made to me as I read John Stott's magnificent book on Jesus's atonement called The Cross of Christ. Stott, indicating what the cross teaches us, writes, "First, our sin must be extremely horrible. Nothing reveals the gravity of sin like the cross. For ultimately what sent Christ there was neither the greed of Judas, nor the envy of the priests, nor the vacillating cowardice of Pilate, but our own greed, envy, cowardice and other sins, and Christ's resolve in love and mercy to bear their judgment and so put them away. It is impossible for us to face Christ's cross with integrity and not to feel ashamed of ourselves. Apathy, selfishness and complacency blossom everywhere in the world except at the cross. There these noxious weeds shrivel and die. They are seen for the tatty, poisonous things they are. For if there was no way by which the righteous God could righteously forgive our unrighteousness, except that he should bear it himself in Christ, it must be serious indeed."

I maintain that seeing the seriousness of our sin is a function of recognizing the quantity of our sin—unexhausted fountains—as well as the quality of our sins—extremely horrible. But to what purpose is this meditating on the quantity and quality of our sin you might ask. Well, Stott helps answer that question stating, "It is only when we see this that, stripped of our self-righteousness and self-satisfaction, we are ready to put our trust in Jesus Christ as the Saviour we urgently need."

Studying our sin helps us strip away our self-righteousness and puts us in a place where we can avail ourselves of Jesus Christ and his sin-forgiving work. And that, my friends, is a very good thing. Meditating on our sin also forces us to pray to the only who can help us fight our sin with efficacy; we can pray "Strengthen us against temptation." And we can find assurance knowing that "he is faithful and just to forgive us."